I still remember the first time I ever had sushi — it was during a bring-your-daughter to work day because that was cheaper than daycare, and my dad was always really good about repaying our quiet playing with a fabulous lunch.
My sister and I were notoriously good at picking the weirdest places to go for food — we weren't raised on fast food and my father hated chains, and in the Boston area we had a goldmine of culinary classics to choose from.
Usually we opted for asian food, and my favorite was the Mandarin Reading: an all-you-can-eat buffet with a glass bridge into the dining room over a koi pond filled with massive, angelic carp.
That was where I had my first pieces of salmon sushi, and I was hooked immediately: at age ten I cleaned out the buffet, piling every last piece onto my plate to the shock and horror of my poor father who then probably apologized to the other diners.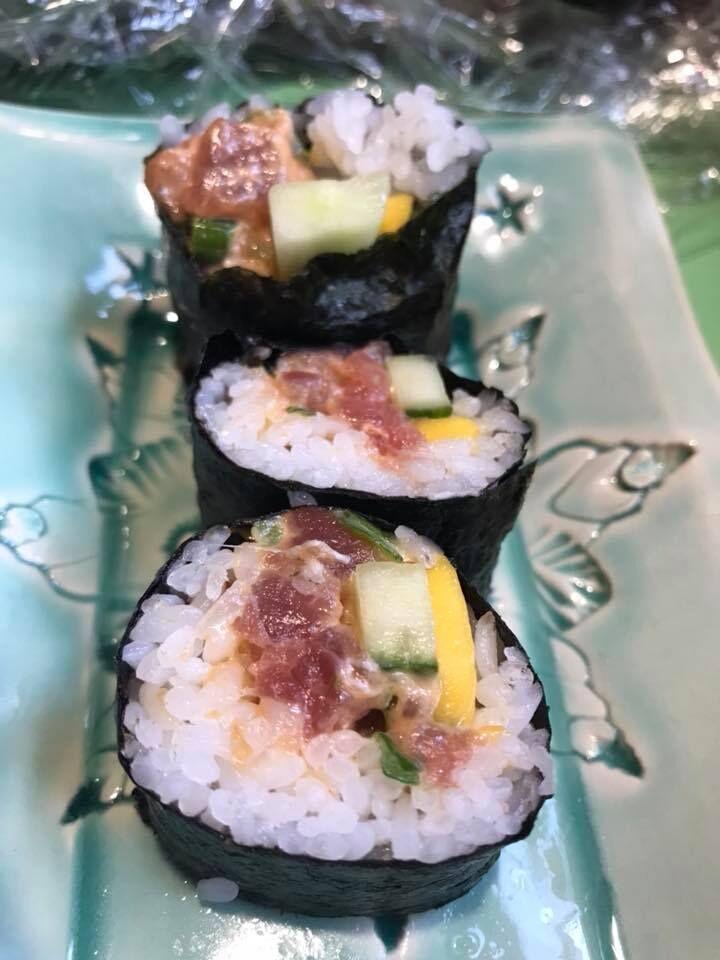 When I came to Vermont to attend Green Mountain College, I was dismayed at the notion that I would lose access to my beloved sushi given the landlocked status of the state. but hope bloomed: my new best friend Lilly knew how to make her own, and I was an all-too-eager apprentice.
But where to find the fish in a land-locked state?
Sushi should only be made with fresh, sushi-grade fish, which can be hard to come by in Vermont, but we are never alone in our appetite for the fruits of the sea. Ordering agencies like Vermont Meat and Seafood markets were always available to help ship in fresh, sushi-grade fish. I strongly recommend against making your own sushi using non-sushi-grade fish found in your everyday supermarket, as it may have been exposed to harmful bacteria normally killed off during the cooking process.
Anyone can make sushi, and the hands-on activity can be quite fun, especially as a family activity. We make it at least once a month.
Rice
Making the rice beforehand is always handy, because you want the rice to be cool before you use it. Rinse your short-grain sushi rice two to three times until the water is clear, and cook using a one to two ratio of rice to water. While the rice is still hot, add 2 tablespoons of rice vinegar. You'll want the rice to be sticky, so that you can roll it into any shape you want, in this case into a flat layer stuck to your nori.
Filling
Once you've got your fresh slab of Scottish or Norwegian salmon, peeling the skin off requires a very sharp knife. Notch the skin on the corner to separate the flesh and slowly work the back of the knife across the fish, gently peeling back the skin and silverskin, before cutting the filets lengthwise into thin strips to roll into your rolls.
Prepare similar-shaped strips of avocado, mango, cucumber and anything else you'd like to experiment with. That's the fun creative part: you can pick and choose exactly what you want in your sushi rolls and come up with some pretty original combinations. My favorite is salmon, mango, pickled ginger and salmon caviar, if I can get my hands on it.
Rocking and rolling
You're probably going to end up creating a few messy rolls until you get your rhythm down, but the fun is all in learning. Spread a sushi mat on your surface, cover it loosely with plastic wrap and top it with a sheet of nori seaweed. Using your fingers, gently wet the nori and top the bottom half closest to you with sushi rice, spreading it into a thin layer horizontally. The nori will begin to shrink up, so work quickly. Place a single line of each of your chosen fillings on the rice closest to you. Using the wooden sushi mat, roll up and away from you, using your hands to tighten the roll as you go. Gradually roll the sushi up, re-rolling using the plastic wrap and mat to keep the roll in place as you tighten your sushi roll. Before slicing into coins, allow the outside nori to dry, and clean your knife after each slice to keep the rice from sticking.
The key to making your own sushi is to think of it as a fun, experimental activity. The more you roll, the better you'll roll, and before you know it your original recipe sushi will be the talk of the neighborhood.
Then, you'll become the teacher, the way Lilly was to me.