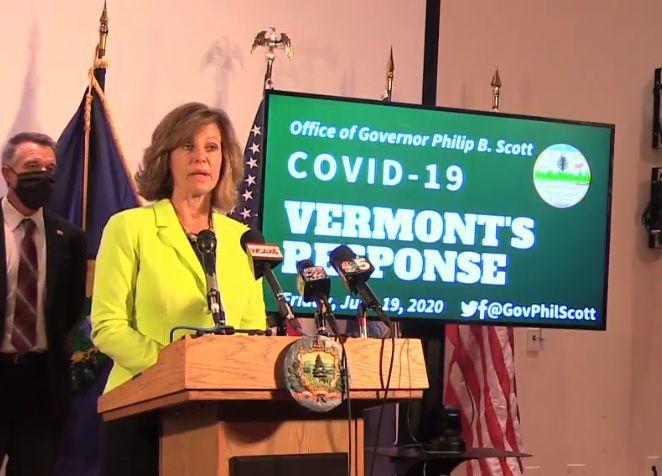 MONTPELIER – Vermont's restaurants and entertainment venues could allow more customers starting this week as some restrictions intended to slow COVID-19's spread were further loosened Friday.
During the Scott administration's regular Friday update, Vermont's commerce secretary Lindsay Kurrle announced capacity limits on Vermont restaurants and entertainment and arts venues would rise from 25 to 50 percent on June 26, as long as there was room for one person per every 100 square feet of space.
Those amended restrictions set the maximum number of people allowed for an indoor event at 75 people and the maximum number of people allowed for an outdoor event at 150 people.
Vermont's service and hospitality industries were among the hardest hit this year when gubernatorial orders closed most public spaces and businesses due to COVID-19, a highly contagious respiratory disease that, while mild for most, can result in life threatening illness.
While restaurants have been open for several weeks now to a limited capacity, Kurrle acknowledged during Friday's announcement that the state's public health restrictions were "making it hard for [restaurants] to reopen" and even preventing some from operating "in ways that make ends meet."
"Our announcement today will not make the hospitality industry whole, but we hope it's another step in the return to profitability, allowing venues to plan for summer events as we head into this all important season for our tourism sector," Kurrle said.
Vermont's Agency of Commerce and Community Development has also amended its guidance for drive-in gatherings to include town-organized firework displays in anticipation of the coming Fourth of July holiday.
"We know towns like Killington and Fairfax have gotten creative in order to make these events possible," Kurrle said, "and we appreciate the work they've done to operate within our guidance and to keep public health at the forefront."
These latest "turns of the spigot" – Gov. Phil Scott's preferred phrase for his administration's reopening plan – come as state officials continue to report only a limited ongoing spread of COVID-19 in Vermont, with a little over two dozen cases of COVID-19 reported this week.
According to Vermont financial regulation commissioner Michael Pieciak, COVID-19's spread remained within the state's "guardrails" for gauging the risk of a serious outbreak, with the number of positive tests for COVID-19 remaining low and hospital use staying within the state's health care capacity.
The state's health department reported 27 additional cases of COVID-19 in Vermont last week, bringing the state's weekly total of new cases closer to the roughly two dozen cases typically reported by the health department every week before a recent outbreak was discovered in Chittenden County.
The state's official count for cases of COVID-19 attributed to the Winooski-centered outbreak has now grown to 101 cases in total, but health officials stressed Friday that most of those additional cases came from previously known cases that were later attributed to Winooski after having already been reported in the state's daily caseloads.
According to Vermont's health commissioner, Dr. Mark Levine, Vermont's health department was seeing "excellent compliance from the majority of people in both isolation and quarantine in adhering to those protocols" when it came to cases and contacts connected to the outbreak.
Levine hesitated to call the Winooski outbreak over, however, saying it was too soon given COVID-19's 14-day incubation period. "We do need to give it more time, but I hope I won't have to be providing frequent updates on it because it's at such a lower level," Levine said Friday.
As of Friday, two hospitalizations due to complications of COVID-19 have been attributed to the outbreak in Winooski, according to Levine.
Pieciak, whose department has managed much of the state's modeling for COVID-19, said Vermont would likely continue to see fewer cases reported in the coming weeks as the Winooski outbreak appears to slow and pop-up testing finds few new cases elsewhere in Vermont.
"Keep in mind, however, that outbreaks can and will continue to happen – and potentially can skew our data from week to week," he added.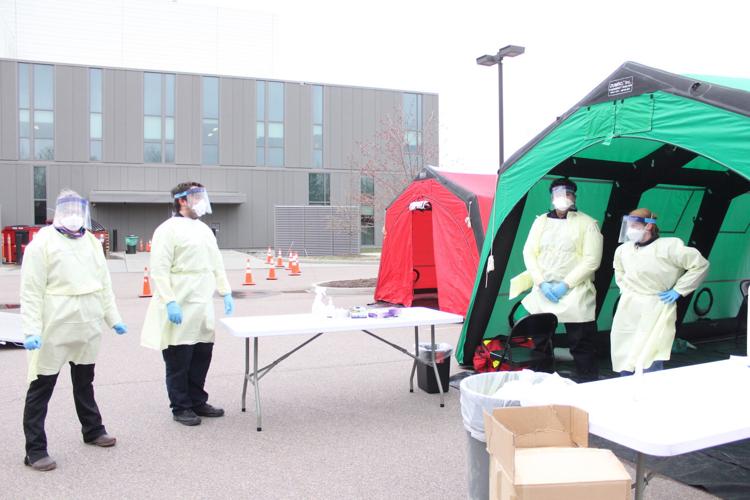 Pieciak also said another 12 New England and New York counties had met Vermont's guidelines for allowing out-of-state travel into Vermont without a quarantine, allowing as many as another 1.8 million possible visitors into Vermont as the region begins to see improvement in its experience with COVID-19.
According to Vermont's modeling, a few of the Northeastern U.S.'s hardest hit regions were beginning to approach those guidelines, including major metropolitan areas near New York City and Boston.
As of Friday afternoon, Vermont's health department reported there having been 1,144 cases of COVID-19 in Vermont since the disease was first observed here in March.
While 918 people have now recovered from the disease in the Green Mountain State, the health department reported the state's first death due to COVID-19 since May this week, bringing the state's total to 56 deaths resulting from complications of COVID-19.
Gov. Phil Scott said Friday his administration would continue to look for ways to further lift the COVID-19-related restrictions placed on Vermont businesses, but stressed that those decisions would continue to be governed by "data and the science to make sure we're moving in the right direction."
"We know this virus is still among us, which is why we must still keep some restrictions in place to avoid a significant spread of COVID-19, and I know how devastating this has been for far too many businesses, especially those in the hospitality sector," Scott said. "Please know we're working every day to find ways to open you up further while limiting the spread of the virus."