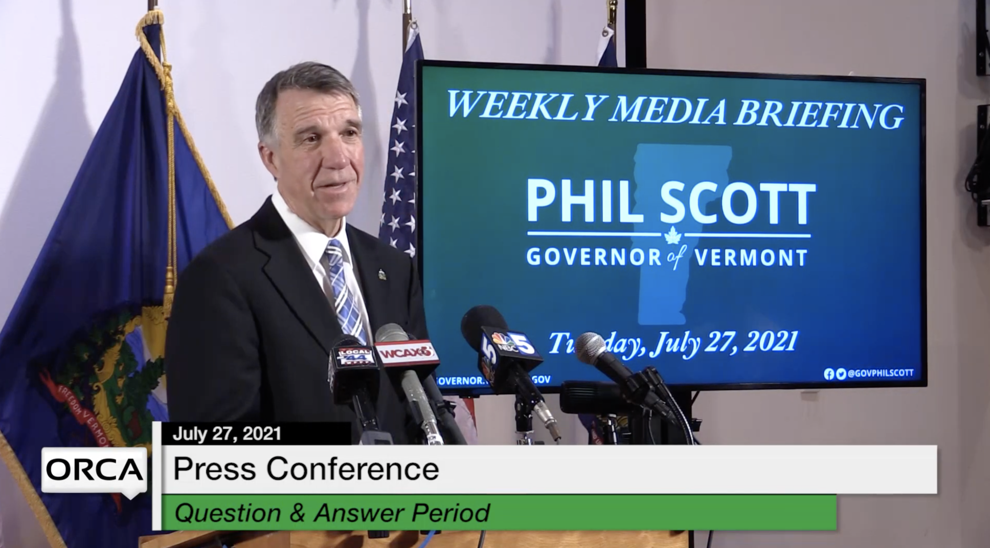 MONTPELIER — Although starting three weeks ago Vermont began to follow national trends with a slight rise in coronavirus cases, officials at the Governor's weekly press briefing said they do not expect restrictions to return.
Vermont has seen 290 new positive cases of COVID-19 statewide in the last 14 days, with most positives showing up within the unvaccinated population.
Officials said despite the increase, Vermont's nation-leading vaccination rate has been keeping cases low.
Increases in cases are being attributed to a rise in the more transmissible Delta variant.
"The best tool we have to defeat the Delta variant is vaccination," Gov. Phil Scott said at the July 27 press briefing.
Vermont's vaccination rate continues to grow with almost 84% of residents receiving at least one dose of the vaccine, significantly reducing the state's risk of a large surge in cases.
At this time, there are 5 to 6 Vermonters in the hospital as a result of the virus, and there has been just one death as a result of the virus statewide in the month of July.
Officials at the briefing said Vermonters will likely be able to continue enjoying the activities and freedoms as they have been with the state "almost back to normal."
Health Commissioner Dr. Mark Levine said he does not expect a return of restrictions at this time due to the high vaccination rate.
Scott reflected on where the state was 16 months ago, when many didn't believe we would have a vaccine by now and recognized the efforts of scientists and health care providers who worked quickly to provide multiple safe and affective vaccines for use.
"The vaccines are proving effective against all variants we've encountered so far, including Delta," Scott said. "As the director of the CDC put it, this is becoming a pandemic of the unvaccinated."
Scott said he has no plans to require vaccinations due to the high rate in the state.
Scott also said officials plan to make a decision on masking for K-12 students during the coming school year in the next couple of days and will discuss it at the next press conference in August.