MONTPELIER – The nation's leading infectious disease expert has praised Vermont's response to COVID-19 but warned Vermonters to remain "prudent" as fall and winter approach.
Dr. Anthony Fauci, the National Institute of Allergy and Infectious Diseases (NIAID)' director, had only praise for Vermont's approach to COVID-19 and its subsequent reopening during a press conference Tuesday, painting the Green Mountain State's response as a "model" for the wider U.S.
"I believe, strongly, that if we do what you've been doing in Vermont in the rest of the country… that we can not only get through the fall and the winter, that we can come out on the other end better off than when we went in," Fauci said.
Public health experts nationwide have expressed fears that the U.S. could see a so-called "second spike" of COVID-19 in winter as public health restrictions relax and cooler weather brings more people indoors, where COVID-19 is more easily spread.
According to Fauci, Vermont was "starting the game on [its] side" by anchoring business reopening and public health decisions to a specific "baseline" for gauging COVID-19's spread – namely, the rate of COVID-19 tests resulting in positive diagnoses for the disease.
Most businesses and much of public life in Vermont was ordered closed in March in response to COVID-19's initial spread in the Green Mountain State. As that spread plateaued, businesses have gradually been allowed to reopen with public health mandates in place.
Those reopenings have largely been anchored to certain "guardrails" gauging COVID-19's spread through Vermont and hospitals' capacity for managing outbreaks of the disease, with Gov. Phil Scott stressing reopening steps would come only if COVID-19's spread remained below those guardrails.
It was an approach Fauci said he wished he could "bottle up" and bring to other states weighing similar reopening decisions.
At 1,702 reported cases of COVID-19 as of Tuesday afternoon, Vermont remains one of the states with the fewest per capita cases of COVID-19 reported in the country. According to state modeling, the rate at which COVID-19 tests positively identified the disease was the lowest in the U.S.
According to Fauci, the state's insistence on certain public health measures, such as mask-wearing and other social distancing guidelines, account, in part, for Vermont's relative success with controlling COVID-19 and could be modeled for other states regardless of their size relative to Vermont.
"Whether you are in Vermont or in New York City… those things work," Fauci told reporters Tuesday. "They work in states with small numbers, like Vermont, and they work in states with big numbers, like New York, Texas and California."
While state officials often tout Vermont's pandemic restrictions to be among the strictest in the country, one place where the Scott administration lagged behind other states was the implementation of a mask mandate – one of the few places where Scott's response to COVID-19 has drawn criticism in Vermont.
Though he eventually issued a mandate, Scott's preference for education to orders with potential pushback from some Vermonters appeared to track closely with comments Fauci made Tuesday.
According to Fauci, hesitance around a national masking mandate came from questions of enforcing a mask mandate and the inevitable resistance a mandate would inspire in some communities.
"There is a great deal of variability throughout the country, and in some areas, anything that smacks of an authoritative statement to the citizenry is often met with a considerable amount of pushback," Fauci said. "I think you'd have to take it on a case-by-case basis."
Fauci, with some prompting from Vermont's health commissioner, also sought to assuage fears about fast-tracked vaccines for COVID-19.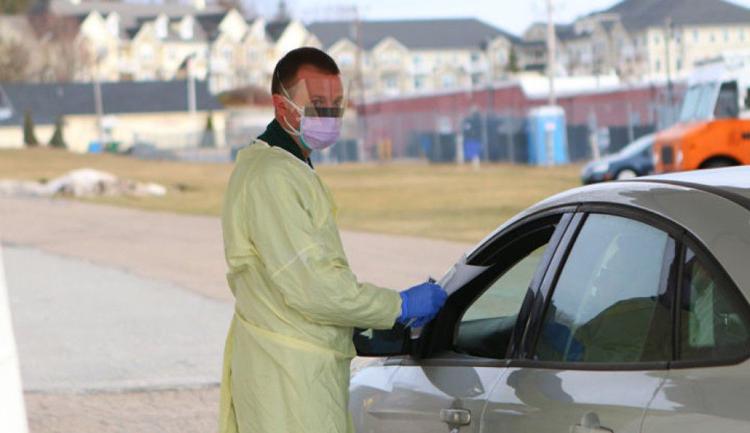 Amid fears that a U.S.-produced vaccine could be improperly fast-tracked and deployed due to political reasons, Fauci stressed any vaccine ultimately authorized by the federal Food and Drug Administration (FDA) would be properly vetted by "multiple layers of checkpoints regarding both safety and efficacy."
"We trust the FDA – they have pledged they will do what the science tells them to do," Fauci said. "If there's a vaccine – which I'm fairly certain there will be – which is safe and effective, I, for one, would not hesitate to take it, nor hesitate to recommend that my entire family do it."
Fauci avoided directly addressing recently released recordings of President Donald Trump admitting he downplayed COVID-19, calling those questions about the recordings "very politically charged" and saying he preferred to "look forward" as states prepared for schools' reopening and the coming winter.
"It's best to look forward about what we know now and what we've been through and how we can best address it," the NIAID director said during Tuesday's press conference.
While much of Tuesday's press conference centered on Vermont's relative successes with controlling COVID-19's spread, Fauci stressed Vermonters should remain vigilant and continue being mindful of the public health guidelines intended to limit the disease's spread.
"At the same time that I'm giving kudos to Vermont for doing so well, the message I'd like all of the citizens of this state to hear is that this virus is a formidable foe," Fauci said. "You give it an opportunity to reemerge its ugly head… that virus is going to take advantage of that.
"Please, you've done so well, don't let your guard down, because if we do, we're going to see surges that are going to put us back to where we were months and months ago."
Scott, meanwhile, said the source of Vermont's success came from Vermonters' willingness to follow public health guidance and support one another during the opening months of the pandemic.
"I give all the credit to the people of Vermont for Vermont's success," the governor said.
While seemingly mild for most, the virus causing COVID-19 can result in severe and sometimes fatal illness for some and lasting health effects for others.
Since COVID-19 was first found in Vermont in March, 58 people have died due to complications of the virus in the Green Mountain State, according to Vermont's health department.